Visual search is a close cousin of AR. Just like AR infuses graphics into a scene or onto an object, visual search infuses information to contextualize physical objects. It's a key piece of Google's AR master plan…and now Snapchat's too.
This week, Snap announced a new feature that will let users scan physical items or barcodes with Snapchat's camera. It then overlays a card that shows information about that item or similar ones. That info will include price, reviews and a purchase button, all of which flow to and from Amazon.
That last part is a key factor, as Snapchat has intelligently partnered for better e-commerce functionality. But beyond just ability to transact, it also taps into Amazon's vast product image database for better object recognition, which means a more functional user experience.
The Business Case
Visual search is a logical extension for Snap. The company is already an early AR leader which has conditioned AR behavior within a younger user base that already has a high affinity for the camera. Fashion is also in its DNA, making the style/product-hunting use case a natural one.
But more importantly, it's a natural move because of its monetization potential. Driving commerce is something Snapchat continues to develop, such as Shoppable AR, and is central to its ability to grow revenue amidst volatile and sometimes-troubled stock performance.
Snap didn't disclose if it's getting affiliate revenue from Amazon for purchases it drives. More likely, it's a barter which brings Amazon's integration for a more thorough UX, as noted. It also boosts user engagement and validates an AR commerce model that's core to its long-term vision.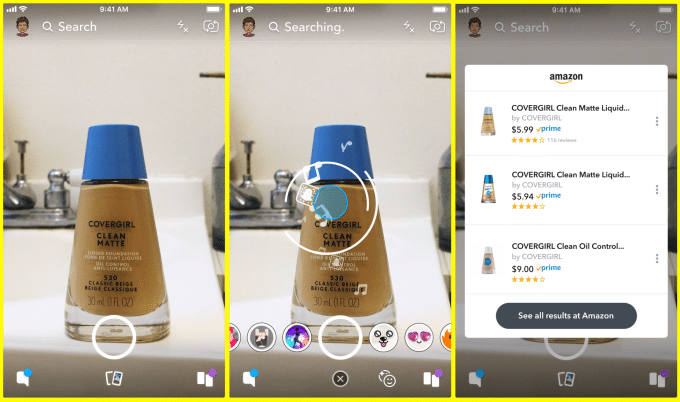 Snapchat's AR-based revenue so far has been from branded AR lenses, a quickly-growing form of brand advertising. But as explored in our August Intelligence Briefing, visual search will begin to outpace AR lenses and other display-based AR ad formats in terms of revenue growth.
The longer-term play could also be glasses-based. Like Apple, Snapchat is likely planning for that time horizon. Also like Apple, it's mobile efforts could be a training ground for that endpoint, for both users and developers. Though not AR, Spectacles could have a similar "conditioning" effect.
"That's the secret strategy or the Trojan horse: How do you get enough sensors in people's hands at a cheap price or on their face," Ubiquity 6 CEO Anjney Midha said recently. "That sets them up for very immersive AR experiences or any kind of VR experiences a year or two years from now."

The Competitive Field
Panning back Snapchat joins a growing list of players who are placing their chips on visual search as both a compelling user feature and monetization play. That growing list includes Pinterest Lens and Google Lens, which has a "Style Match" feature that's very similar to Snapchat's play.
The question is, who is best positioned among these players. It's a game that will be won on product execution and reach. Snapchat has both, having partnered with Amazon for proper functionality and data, and having the built-in and AR-conditioned audience as mentioned.
Amazon itself could be a sleeping giant. It's shown intelligent execution for AR features within its highly-used mobile app. That so far includes product visualization, but more functionality for visual search is a natural extension. It could be testing the waters by first working with Snapchat.

In fact, Amazon was an early pioneer of visual search with its Flow app. It recognized products like book covers, which you could purchase after scanning with a smartphone. Now that mobile AR is taking off, Amazon will likely elevate its visual search game. The Snapchat deal is step one.
And then there's Google. It excels in audience reach and capacity for visual search. In fact, it probably has the best potential for visual search, given its knowledge graph and extensive image database that it can tap for object recognition — albeit less product-oriented than Amazon.
Meanwhile, this is a strong move for Snapchat and we believe it will perform well. Combining its AR-conditioned user base and the product/image data backbone from Amazon gives it real potential. Of course, the proof will be in the actual user adoption, utility, and active use.
---
For deeper XR data and intelligence, join ARtillry PRO and subscribe to the free ARtillry Weekly newsletter. 
Disclosure: ARtillry has no financial stake in the companies mentioned in this post, nor received payment for its production. Disclosure and ethics policy can be seen here.
Header image credit: Snap, Inc.