This post is adapted from ARtillry's latest Intelligence Briefing, AR Business Models: The Top of the Food Chain, Part II. It includes some of its data and takeaways. More can be previewed here and subscribe for the full report.
---
Among tech giants making moves into augmented reality, Amazon has probably been the least discussed in the tech media and analyst corps. Its AR moves have indeed been the quietest of the bunch, but potentially massive. They're also potentially the most logical and easy to understand.
AR has clear implications for supporting e-commerce and boosting Amazon's ability to sell things and improve margins — core organizational priorities. This could play out in a few ways, mostly orbiting online shopping, increasing the probability of purchases and decreasing the probability of returns.

Cash FLOW
At a basic level, Amazon's AR play will involve visual search, which we examined in Part I for Google. It's about contextualizing items using the smartphone camera instead of text queries. This builds from Amazon's decade-old FLOW app that let users buy any book by taking a picture of its cover.
But with advancements in computer vision and object recognition, the proposition is now to search for a broader range of products, as Amazon's catalog has likewise broadened. The idea is to find matches for products or complementary products – a longstanding tradition on Amazon.
Based on AR's current surge, and Amazon's proven interest, ARtillry Intelligence believes the company will re-activate the path it once initiated with FLOW. Evidence can already be seen in its visual search partnership with Snapchat (explored below), in which it's testing the current waters.
Beyond using the smartphone camera to search and discover products, AR will take the next step in qualifying products. That will involve virtually placing furniture, appliances and electronics in one's home to make sure they fit. By "fit," we mean style, dimension and other qualifying factors.
"For big-ticket purchases, historically you would try to visualize what it would look like in your home," said Lenovo's Carter Agar who worked with Amazon on an early AR integration on Lenovo phones. "Amazon thinks a lot of that can be simplified through allowing consumers to visualize that product."
There are other places Amazon is applying this principle, such as the Echo Look. Meant to snap mirror-length pictures of users, it's a play towards virtually fitting, overlaying, and suggesting apparel. And the endgame there, as always, is driving orders. This concept will apply across lots of hardware.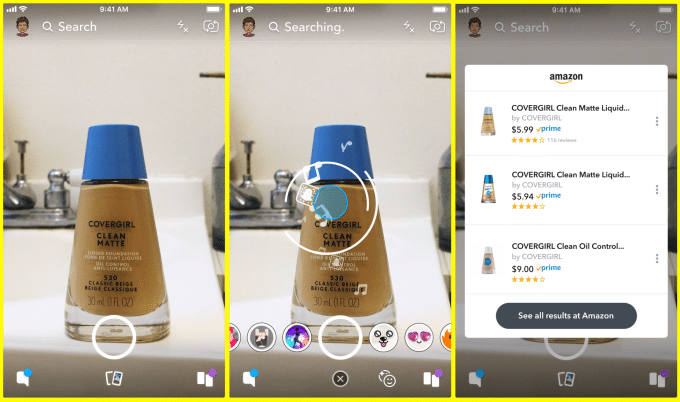 Margin Obsessed
But it's not just about orders. Amazon's success is based on razor-thin margins executed at massive scale. That makes maintaining and improving margins an organizational obsession. And to that end, AR can help with a key piece of the puzzle: returns. And it's particularly fitting for large items.
"From Amazon's perspective, they can improve conversions significantly," said Agar. "And one of the big issues that Amazon encounters is returns for big products like TVs because they don't fit or they don't look right. So anything they can do to reduce the return rate is potentially huge cost savings."
In fact, one of the biggest margin-depleting factors facing Amazon is large-order shipping and returns. That drove the company to work with Google Tango and Lenovo in the ways suggested above. Now that Tango has been discontinued by Google, Amazon works with other AR platforms such as ARkit.

AR as a Feature
In fairness, Amazon isn't the only company taking this image-based approach. Wayfair and IKEA have launched AR features that let shoppers visualize furniture placement. And Pinterest lets users take pictures of products to search for similar items. But Amazon's scale may give it a natural lead.
Furthermore, Amazon's work in machine learning and AI for voice (Alexa) positions it well against competitors. Those parallel efforts with voice indicate Amazon's interest in using alternate forms of search to increase the levels of interaction — and ultimately order volume — from online buyers.
Another big differentiator for Amazon's AR visualization is that it doesn't require a standalone app. Given that Amazon's flagship mobile app is highly used, the company decided to include AR features with several launch points in the shopping flow, including the home screen and product pages.
This exemplifies a strategy we call "AR as a feature." The idea is that AR's early days compel "training wheels" for potential AR users. And one way to train them is to ease them into the experience by meeting them half way. That means delivering AR within the apps they already use.
Though AR should be designed in a native way, rather than porting existing apps into AR, the opposite can be true: delivering AR within existing apps. And in early days, that's best done through AR that piggybacks on popular apps versus relying on separate/dedicated app downloads.
To continue reading, see ARtillry's latest Intelligence Briefing, AR Business Models: The Top of the Food Chain, Part II. 
---
For deeper XR data and intelligence, join ARtillry PRO and subscribe to the free ARtillry Weekly newsletter. 
Disclosure: ARtillry has no financial stake in the companies mentioned in this post, nor received payment for its production. Disclosure and ethics policy can be seen here.