This post is adapted from ARtillery Intelligence's report, Lessons From AR Revenue Leaders, Part I: Snap. It includes some of its data and takeaways. More can be previewed here and subscribe for the full report.
---
A lot can be learned from consumer AR's early leaders. What are they doing right? How are they engaging users? And how are they making money? These are key questions in AR's early stages, as there's no standardized playbook quite yet. This results in lots of experimentation.
This exercise includes pinpointing fitting AR use cases, as well as more granular strategies around user experience (UX). What types of AR interactions resonate with consumers? And what best practices are being standardized for experience and interface design?
Equally important is the question of AR monetization and revenue models. Just as user experience is being refined, questions over what consumers will and won't pay for are likewise being discovered. The same goes for brand spending behavior for sponsored AR experiences.
Snap is one company leading the way with all of the above. It has built a real revenue-generating business around AR lenses, including brand-sponsored experiences. A lot of this comes down to a virtuous cycle: user engagement attracts lens developers, more users… then advertisers.
To get there, Snap has established three pillars in its AR strategy: Access, Adoption and Content. As we covered last week, access is all about the smartphone camera. Though Snap is planting seeds for a wearables future with Spectacles, the near-term play is all about smartphone ubiquity.

Pillar 2: Adoption
Picking up where we left off last week, Snap's AR adoption strategy is all about grounding it in a fundamental need: communication. That compares with AR use cases like gaming and product visualization. This is important because communication is inherently a high-frequency use case.
"I love IKEA… but I don't shop at IKEA every day," Snap's Christina Arguelles said at AWE Europe of the retailer's popular AR tools. "So when we think about this future that people talk about that AR is everywhere… in order to make that a reality, we have to focus on everyday needs… Communication is the key everyday need that we have decided to build around. [This] is what's really led to the mass scale that we're seeing today."
Drilling down on communication, another factor in Snapchat's AR success is leaning into visual messaging. This builds on the progression of phone calls to texting to rich media. Millennials and Gen Z communicate through images and emoji, rather than words, as mentioned.
"We like to call them the 'camera-native generation' because they were raised with the camera… They're as comfortable with a camera as you are with a keyboard," said Arguelles. "That comfort level is so important to the future of AR really taking off… If you require people to be involved with the camera in order to unlock [AR], you want them comfortable."
Supporting her assertion is data from JWT Intelligence. It reports that 56 percent of Generation Z (born 1996-2010) use social apps to express themselves creatively. More notably for the sake of this report, 40 percent use AR lenses to enhance the pictures and videos they share.

What to Build?
Another key factor to drive adoption is the question of what to build. AR isn't the silver bullet it was once thought to be, so it's all about pinpointing use cases where its additive. This strategy must take into account the use case and the target audience, as Snapchat has done around Gen Z.
"It feels like we've been saying that AR is the future, that AR is going to revolutionize so many industries," said Arguelles. "It's going to change the way that you consume so much of your daily life. But the reality is that hasn't really happened yet. We're not seeing it so much in everyday life So the question is, why hasn't it come to fruition yet? And what can we do to accelerate that?"
Consumer demand and comfort levels will evolve so the list of applicable use cases grows. But for now, Snap made a winning bet that social sharing — an existing behavior — benefits from AR. This should be a lesson in applying AR to build on existing behaviors in early stages.
Another way Snapchat found success with AR was to position it in a way that leaned into the culturally evolving perception of the smartphone camera. It's no longer a tool to just take pictures, but rather a lens through which to experience the world live, a la Pokémon Go.
This thinking has propelled Snapchat's recent AR integrations. Moving beyond selfie lenses, it's developing things like visual search. By utilizing the rear-facing camera to scan the broader canvas of the physical world, it can do things like identify style items or solve math problems.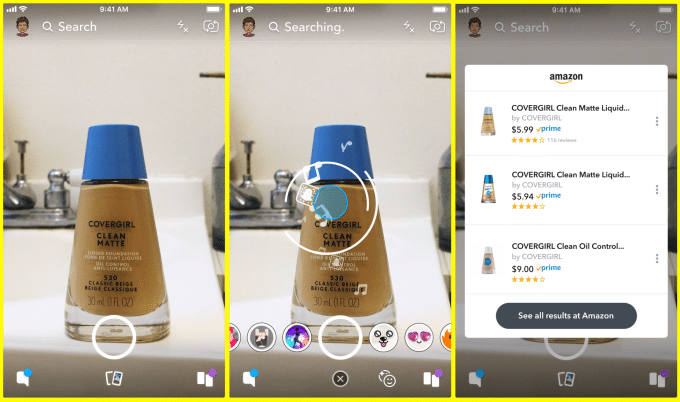 The Language of UX
Last week, we examined language in the context of marketing. There's also the language UX. We're conditioned for common languages on the web — everything from drop-down menus to scroll bars. The same goes for mobile gestures like touch interfaces. This needs to develop in AR.
Meanwhile, the lesson is to build AR experiences that utilize the limited set of interactions that have already been established. Don't stray too far from these UX standards established by AR platforms like ARkit, ARCore and Snapchat's Lens Studio; and keep interactions consistent.
"How do we teach people around the fundamentals of how to interact with AR?" posed Arguelles. "If we look at websites as the parallel… over time, what happened was at the very top of almost every website… you find a menu bar that's going to allow you to sift through the right pages… knowing how to navigate the web was fundamental for people to get comfortable… But for AR, we don't yet have this one consistent place that someone knows where to go and what to do. We need to develop that UX, because that's the only way that people have some kind of consistency."
In all of the above, one benefit Snapchat offers is being an environment in which developers and brands can test AR interactions at low cost and meaningful distribution to see what resonates. This trial and error approach is fitting for early stages of AR when the playbook is still being written.
"We've trained an entire generation on using the camera a lot, and using AR a lot," said Arguelles. "And what it provides with Lens Studio is rapid-fire experimentation. You want to test how an AR asset, experience or utility is going to land, and get immediate feedback. Push it out to our community because they're there, they're trained on how to use AR, and they're actively looking for experiences."
We'll be back next week to dive into the third pillar: Content. Check out the full report here.
---
For deeper XR data and intelligence, join ARtillery PRO and subscribe to the free AR Insider Weekly newsletter. 
Disclosure: AR Insider has no financial stake in the companies mentioned in this post, nor received payment for its production. Disclosure and ethics policy can be seen here.