This is the second post in our series on augmented reality's opportunities in local commerce. That includes local search and discovery — areas that were transformed in the smartphone/app era and now face another inflection point with AR. Previous posts on this topic can be seen here. 
---
Of all the areas of applicability for consumer AR, local commerce is up there. We're talking local search and discovery — everything from finding a place to get drinks, to buying a car. These are behaviors that were transformed by smartphones, and represent massive advertising spend.
But how will AR materialize for local search and discovery apps? What will be winning design principles? How long it will take? And how do these factors signal players in local commerce — mostly media companies, startups and ad-tech companies — where to develop AR products?
One place these signals were frustratingly absent was Apple's iPhoneX unveiling. After months of telling peers in the local media world to "just wait until Apple's September event," I watched in disbelief as AR's future was characterized by animated emoji and selfie masks.
We quickly realized that downplaying AR in the iPhone X was calculated and probably smart: Boosted AR-capability in the device would mean an ARkit developer platform that's fractured between device tiers. ARkit's edge is conversely its compatibility with 434 million existing iPhones.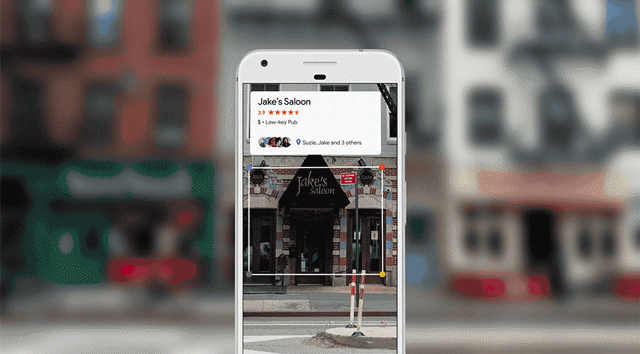 Strength in Numbers
That reach is precisely what will bring AR to market sooner. It will play out like this: A sizable installed base of compatible iPhones will incentivize developers to build AR apps, especially local ones. That scale plus Apple's halo effect will put AR into lots of people's hands (literally), and fast.
Google's ARCore will achieve even greater scale, to the tune of 72 billion devices this year, growing to 3.6 billion by 2020. Its device compatibility is limited to a few smartphones today, but will fill out Android's massive global base over the next hardware replacement cycle (2.5 years).
ARCore also carries Google's DNA in a road map that emphasizes web-based AR, delivered through the Chrome browser. The jury is still out on the best delivery for mobile AR, but there are many (including us) that believe Apple's app-centric paradigm has too much friction.
This will be an important factor to watch for companies plotting AR strategies now or in the near future. Picking a horse in terms of ARkit vs. ARcore (or both) will be important. It will also notably parallel the last decade's Android vs. iOS mobile "platform wars," which forced the same decision.
For local media, the opportunity will be multi-dimensional. We're talking AR apps for navigating to or discovering local shops. Monetization flows from there (think: ad placement upsells). And the location/business data that local media companies uniquely hold will be a valuable currency in AR.

We Won't Get Fooled Again
But the bigger lesson is that it will happen quickly. Because of AR's natural fit in local commerce and discovery, an early mover advantage can be gained by those who get a head start. That means play with these SDKs to figure out ways they can enhance local marketing.
This urgency is key because companies in the local media sector have famously and woefully missed several successive waves. That has led to years of playing catch up. We're talking traditional local media's latent adoption of the desktop web and then the smartphone.
It's also important to note that the pace is accelerating. Innovation cycles were faster with the smartphone (i.e app development) than the desktop (building websites), which were faster than print. With each passing revolution, response time diminishes while opportunity cost grows.
Size matters too: with AR, local startups (i.e. Houzz) will be more agile and experimental than larger local media companies (i.e. Hearst). The latter are more susceptible to cultural inertia and innovator's dilemma. One solution is to build innovation labs that sidestep those barriers.
Lastly, native thinking applies. Shoehorning legacy formats into immersive media will fail. We've seen this movie before, including with smartphones. Put another way, whoever places flat rectangular banner ads in AR apps will be the first major fail of local marketing's next wave.
---
For a deeper dive on AR & VR insights, see ARtillry's new intelligence subscription, and sign up for the free ARtillry Weekly newsletter. 
Disclosure: ARtillry has no financial stake in the companies mentioned in this post, nor received payment for its production. Disclosure and ethics policy can be seen here.