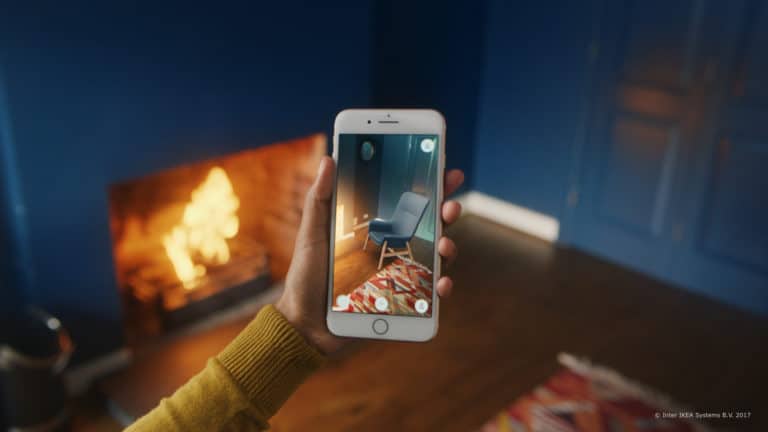 ---
Four Myths About AR Advertising
by Tony Parisi
It's not a fad — it's here to stay. Here's why.
AR advertising: it's a thing. I've been writing about it for over a year, and working on related products at Unity for much longer. "From upper funnel to purchase, brands are increasingly turning to Augmented Reality to market their products and services online," was the tale I spun a year ago. Back then, it was largely aspirational: early returns on engagement, customer sentiment and revenues around mobile AR brand experiences were promising, but we hadn't yet seen signs of a tipping point. For all we knew, 2020 could have been the year that AR ads came and went. Well, a year later they are still around, and all signs seem to be pointing toward a sustainable future for this new medium.
Not only is advertising the primary business model of the aforementioned social players, but lenses themselves are conducive to branded experiences. — Mike Boland, AR Insider
Our friends at ARtillery predict that AR advertising will pass the $2B mark in 2021, driven primarily by social networks. This represents around 50% growth in a year, up from $1.4B in 2020— and possibly a bellwether in the otherwise niche landscape of today's mobile AR. A just-released report by Snap and Deloitte sees the technology moving to ubiquity by 2025 and promises unprecedented business outcomes, citing a staggering 94% conversion rate on purchases in some cases.
So what's behind this continued growth? Granted, AR truly is novel, innovative and unique. It arguably offers the most fun and inspiring tools we have ever had for telling brand stories. But this is only a piece of the puzzle. At this stage, if marketers are continuing to invest in this new platform, they must be seeing results. This is the topic we unpacked last week in a panel at Brand Innovators: Collaborative Advertising: How AR Gives Ads New Purpose. I moderated a lively and engaging hour with Zoe Soon from IAB, Christina Park at LoopMe and Keith Soljacich of Digitas. The four of us are looking at the market through different lenses: industry collaboration, sales, creative, and technology. Together we spent an hour unpacking a range of issues including core capabilities, content production, distribution, and measurement.

Myth-Busting Immersive Advertising
The audience at Brand Innovators cares primarily about two things: what's new, and how can I use it in my business? It's not a casual group; these folks are oriented toward action. With everything in AR being so new and moving so fast, job one is education. Most marketers have now heard about the different immersive technologies and at least have a vague sense of capabilities. And they know they need to pay attention to it. But that's generally where it ends.
To get the most information out in the most fun way in a short session, we decided to frame our panel discussion as a myth-busting exercise. A lot of folks are confused about how real and pervasive the tech is, what it takes to execute, and how impactful it can be. Actually, they're confused about a lot of things. But there four ideas about immersive advertising that have emerged as prevailing myths that we encounter quite often:
It's a fad.
It's difficult and expensive to produce.
It's only good for certain verticals.
It has questionable ROI.
I think we can attribute a lot of this to lack of education around what the core capabilities are, which platforms support what features, and so on. There may also be cases where customers have had initial bad experiences or performance due to execution. But the above are, indeed, myths — and it's time to set the record straight. I encourage you to watch the full panel video, but I will provide a few highlights here.
Myth #1: AR is a Fad
As Zoe Soon of the IAB poignantly shared, "back in the day my dad thought the Internet was a fad." I think every disruptive technology starts out like this. The Snap report illustrates this pattern with a lifecycle they describe as
tech -> toy -> tool -> totality
That is
It starts with a cool demo.
Then people start tinkering with it.
Soon after (assuming folks haven't abandoned it), we begin to discover the impactful use cases and benefits that demonstrate its value.
It becomes generally accepted and taken for granted and practitioners exploit its full power.
It would appear that we have moved beyond toy stage and entered the tool phase of AR advertising — that should be crystal clear when we look at the utility and ROI around it below — but we are clearly past the stage where people should view AR as a fad.
One way to look at this is from the consumer sentiment standpoint. Christina Park shared results of a recent survey conducted by her company, LoopMe (emphasis mine):
Nearly 20% of respondents say they're more likely to pay attention to interactive ads with 2/3 of them remembering seeing ads while playing games on their mobile devices. So awareness of ads is high but the majority of respondents have not engaged with an AR ad — not surprising since we don't see many brands really tapping into this yet. Interestingly though, a quarter of respondents would have a better attitude about ads if they were more engaging and almost 40% of respondents may find [AR] useful as a virtual first look for products.

This is a huge opportunity for brands to reach consumers in a more meaningful and memorable way.
The above suggests that not only is consumer interest/receptivity for this new format high — there is also a massive greenfield opportunity.
Myth #2: AR is Difficult and Expensive
A fairly common set of misconceptions is around the time, hassle and cost associated with making creative for AR. One might think that it requires large teams of CGI experts, Hollywood budgets and several months to pull off an AR ad campaign. This couldn't be farther from the truth. Keith Soljacich of Digitas, who has spent the last several years creating breakthrough AR content, noted how game engine technology like Unity has changed the game, dramatically lowering the total cost to create and deploy amazing interactive 3D experiences.
It gets even better: short-form AR ad creative that runs in networks like Snap, Facebook, Google and Unity Ads can be created at extremely low cost (small digit thousands) and in very tight time frames (a few weeks to a few months, depending on the creative). Now, you still need to spend a bit buying media to have effective reach, but the point is, producing and running a campaign that includes AR doesn't have to break the bank.
Myth #3: AR is Only Good for Certain Verticals
A lot of people assume that because AR is about bringing the magic of 3D and animation into the real world, it's an entertainment thing. We've seen some great examples of entertainment marketing, such as Sony Pictures' Spider-Man™: Into the Spider-Verse campaign done by Trigger using 8th Wall's WebAR platform a few years back.
But it doesn't stop at entertainment. AR is being used to market and sell physical products, including home furnishing, appliances, vehicles, makeup, and even CPG brands. You may wonder how 3D helps sell, say a box of cereal, but as Keith noted, with CPGs it's not about something prosaic like spinning around the product packaging. It's about engaging with the brand, and that can range from interacting with beloved IP associated with that product, to using the AR capabilities of newer phone cameras to recognize images on packages and activate novel interactive experiences to have fun or learn more.
A great example of this kind of content is a Miller Lite AR ad campaign a few years back. Digitas sister agencies TiltShift and SparkFoundry created and ran campaigns on Unity's ad network that brought the Miller Lite mascot, a green-bearded leprechaun, into the players' space in fun AR mini-game experiences for St. Patrick's Day. So while the experience was thoroughly entertaining (ad engagement, replay rates, and post-ad consumer sentiment were extremely high), it wasn't about entertainment.
Myth #4: AR Advertising has Questionable ROI
AR is great at moving shoppers through all stages of a consumer journey really quickly. It's like a consideration to conversion superhighway. — Keith Soljacich, Digitas
Three myths down; one to go. And this is by far the most important one to dispel. At the end of the day, advertisers need results. Assuming one gets to the point where they understand that it's real, it's affordable and it's good for their product, questions will still linger about ROI. Can we reach a big enough audience? Will they engage? Can I drive the outcomes I'm looking for? And how will I even know i.e. can we measure it?
This is where things are looking really, really encouraging. It's probably the key reason the industry is continuing this experiment. Let's start with reach: the big social networks are reaching millions with AR daily. That number is just going to continue growing: referring back to the Snap report, nearly 75% of the global population and almost all smartphone users will be frequent AR users by 2025.
As to whether users will engage, we know this is a highly compelling medium that consumers interact with; however, how we define and quantify that is still evolving. I sit on the IAB marketplace board for AR. Part of our charter is to define what engagement means in AR and how to measure it. We have started to circle the problem and published some early thoughts and recommendations in our first AR Buyer's Guide:
In advance of the industry standardizing around measurement, individual companies are reporting impressive early wins. The aforementioned Miller Lite campaign showed a 28 percent engagement rate on one AR unit, and a whopping 75 percent replay rate on an AR playable ad. We also ran content for this campaign in Web AR and were recording session times of over 3 minutes. More recently, per the Snap report: "In the wake of COVID-19, in which retailers worldwide shut down for months, retailers using AR are enjoying a 19% spike in customer engagement…" (From Judy Mottl, Editor of Retail Customer Experience.) These figures — like well-crafted AR ads — are hard to ignore.
And finally, the outcomes. Again, it's still early in this journey, but there are so many positive indicators. Zoe cited a recent Washington Post article about the rise in prominence of virtual product try-ons: "Virtual try-ons increased 32% during the pandemic, and shoppers who try on a product are 3 times more likely to buy and less likely to return." Now, this growth was brought on by the pandemic, but most industry observers agree that patterns like this will not return to pre-pandemic levels and will likely continue at their current clip or continue to accelerate.
If that Snap 94% increase in conversion rate statistic is a signal to be taken seriously, brands would have to be crazy not to try out AR. We just might be looking at the most effective advertising medium to date, or as Keith so brilliant summed it up in the pull quote of the day on our panel: AR is "a consideration to conversion superhighway," that is, the time and steps required from when a consumer discovers, engages with and purchases a product is rapidly shrinking to zero. Because with AR it's all right there, in our pocket and at our fingertips.
It's Time to Jump on the Superhighway
The panelists from last week are steeped in the day-to-day of this business, and naturally we sometimes get lost in the weeds. So it was refreshing to take a step back and take stock of how far we've come. We tackled those four myths head-on, and were able to bust them with dispatch.
It really does seem to be a moment for our industry, if we can seize the day. AR is looking to be right at a tipping point of consumer adoption, and at the cusp of becoming the next big advertising medium. It's crossing the chasm from toy to tool, it's affordable and widely useful, and it is quickly and repeatedly bearing out results.
AR is here to stay. It's time to jump on.

Tony Parisi is Head of XR Ad Innovation at Unity Technologies. A version of this post first appeared in Near Future of Retail. Follow Tony on Twitter at @auradeluxe. 
Header Image credit: IKEA

More from AR Insider…