ARtillery Briefs is a video series that outlines the top trends we're tracking, including takeaways from recent reports and market forecasts. See the most recent episode below, including narrative takeaways and embedded video.
---
During consumer AR's early stages, success stories are relatively rare. But once identified, a lot can be learned from early leaders. What are they doing right? How are they engaging users? And how are they making money? This is the subject of ARtillery's latest three-part report.
After parts I (Snapchat) and II (Niantic), attention shifts in part III of the series to the emerging players who show early signs of traction and even revenue. These include established companies like Houzz and Pinterest; AR startups like 8th Wall; and exciting hopefuls like Tilt Five.
In addition to the report itself, the latest episode of ARtillery Briefs breaks down a few of the top takeaways. Below is an episode summary as well as the video itself.
Born-Again AR
ARtillery categorizes AR exemplars into 3 buckets: converts, enablers and hopefuls. Starting with AR converts, these are established companies entering AR, such as Instagram. With existing footing, they're often well-positioned and advantaged by resources and built-in network effects.
But that doesn't necessarily guarantee AR success, which relies more on execution. One poster child in that respect is Houzz. It has invested heavily and taken an AR-first approach to product visualization. But like Niantic, it hasn't overplayed its AR hand and has integrated it sparingly.
For example, AR is infused in the existing consumer path to purchase, rather than making users have to go out of their way. Houzz knows that AR is too early and unproven to justify that friction. This seamless integration is also demonstrated by Pinterest and, again, Instagram.
The latter should watched carefully as AR's biggest potential sleeping giant. Not only is it under the umbrella of Facebook's deep-pocketed commitments to spatial computing, but AR is a native and natural fit with its camera-forward user base, and product-discovery use cases.

Enabling AR
The second category examined in the report is AR Enablers, which are the "picks & shovels" tool providers accelerating AR traction by democratizing it. This includes influential AR software and democratization players like Unity, 6D.ai, Ubiquity6, and, as mentioned above, 8th Wall.
Zeroing in on the latter as a representative example, 8th Wall builds on web AR's low-friction advantages. It has also begun to take that approach on the consumer side and bring it to developers with lower-friction tools to get up and running — a key factor for AR industry growth.
In other words, for AR to scale as a creative platform, it has to break out of the bubble of 3D animators and developers. The people whom AR needs to reach to fullfill its transformative promise include non-technical folks like creative agencies and in-house brand marketers.
These personas are the point of adoption for consumer-facing brand and retailer AR activations. This is what we call B2B2C, as they're building immersive experiences for their customers. This is going to be a big revenue category, unlocked by AR enablers that continue to lower barriers.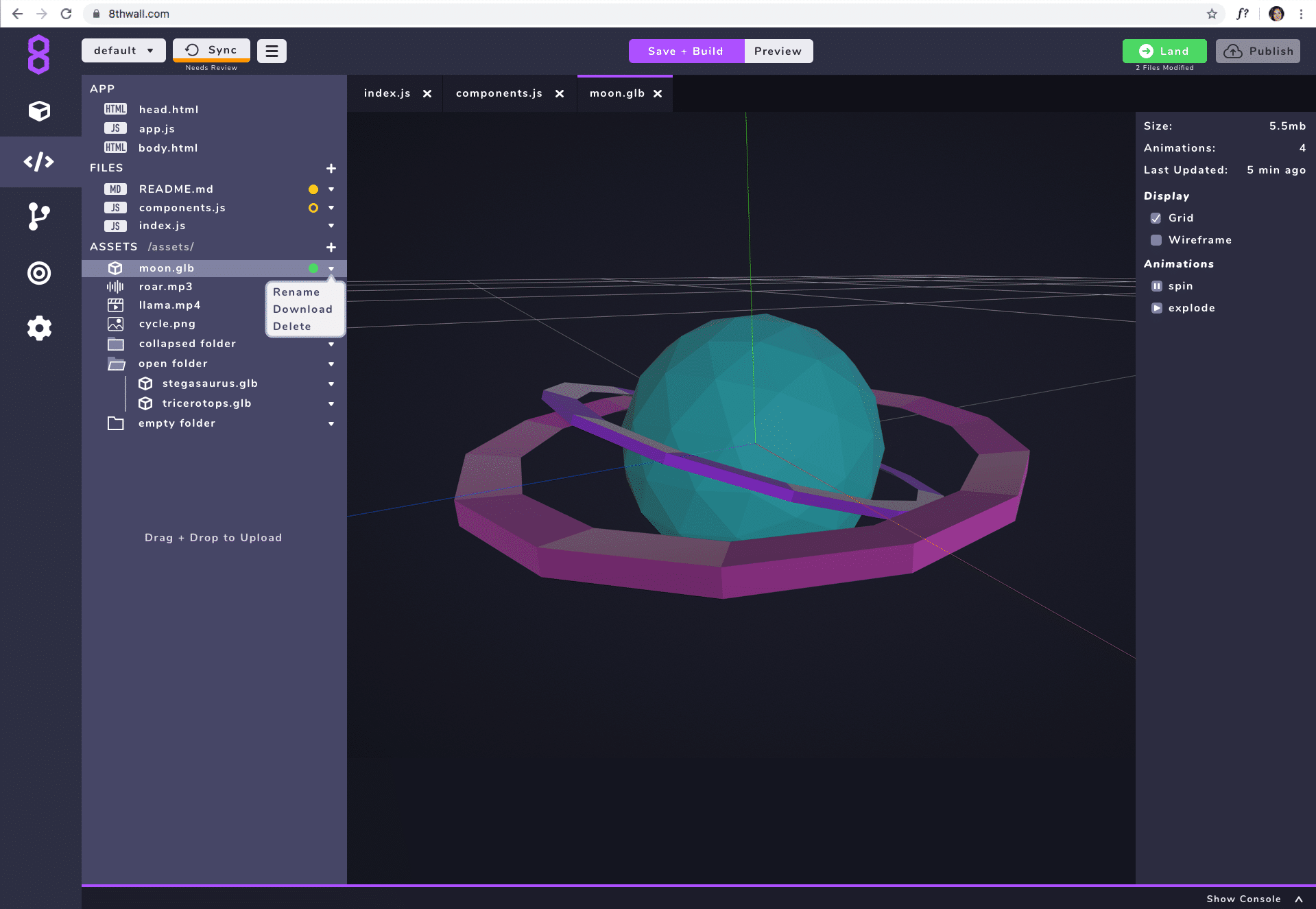 Just Out of the Gate
Finally, the third category examined in this report is AR hopefuls. This comprises notable AR companies just out the gate — particularly those demonstrating the right mix of fresh thinking and adherence to the best practices in consumer AR's young and developing playbook.
The most notable of this lot is likely Tilt Five, which holds important lessons in product focus. The company eschews the popular concept of AR everywhere — a tenet of the AR cloud — in favor of perfecting AR somewhere, which in its case is a stationary AR-fueled social boardgame.
This also builds on a familiar use case of board games with friends… but enhanced and animated by AR. At a time when AR has failed to capture mainstream interest en masse — and has arguably overcomplicated its own value proposition — tapping into comfort zones like this makes sense.
Tilt Five also delivers this focused value proposition with straightforward plain-spoken marketing. This makes it an "experience sell" rather than the common practice of listing a bunch or hardware specs. This resulted in $1.7 million in Kickstarter backing and promising metrics so far.

Building on the Familiar
All of the above just scratches the surface, and you can read more in the full report and the ARtillery Briefs episode below. Meanwhile, now that we've rounded out the three-part series, it's worth calling out a theme that's threaded throughout: AR "training wheels."
Like with Tilt Five, Snapchat, Niantic and others, the thought is that AR is too early and unproven to make consumers "work for it" or go out of their way. The most successful AR has applied itself as an organic and value-added component to things users are already comfortable with.
Put another way, AR will eventually stand on its own, including native thinking and design. That includes wholly-new use cases and things that are purpose-built for and around AR. But at this embryonic stage of AR's life cycle, the most success is found when it builds on the familiar.
---
For deeper XR data and intelligence, join ARtillery PRO and subscribe to the free AR Insider Weekly newsletter. 
Disclosure: AR Insider has no financial stake in the companies mentioned in this post, nor received payment for its production. Disclosure and ethics policy can be seen here.